Traffic & Parking Violations Agency
        Nassau County Traffic & Parking Violations Agency
DUE TO THE STATE OF EMERGENCY DECLARED ON MARCH 13, 2020:
TPVA WILL BE CLOSED TO THE PUBLIC AS OF 5:00PM ON MARCH 13, 2020 UNTIL FURTHER NOTICE.
ANY MATTERS CURRENTLY SCHEDULED WILL BE AUTOMATICALLY ADJOURNED TO A LATER DATE. NO ADDITIONAL FEES OR PENALTIES WILL BE ASSESSED FOR ANY AUTOMATIC ADJOURNMENTS.
IF YOU HAVE ANY QUESTIONS OR NEED TO CONTACT TPVA STAFF PLEASE CALL 516-572-2700 OR EMAIL TPVA.Assist@NASSAUCOUNTYNY.GOV
FOR QUESTIONS REGARDING RED LIGHT CAMERA NOTICES OF LIABILITY PLEASE CALL 1-855- 571-5134.
TO PAY A TICKET OR PENDING SUSPENSION PLEASE CALL 516-572-2389.
TO PAY A RED LIGHT CAMERA NOTICE OF LIABILITY PLEASE FOLLOW INSTRUCTIONS ON THE NOTICE OF LIABILITY OR CALL 1-855-571-5134.
Mission Statement
To enhance pedestrian and vehicular safety through education and timely adjudication of all traffic, parking and photo enforcement related offenses.
General Information
Security screening
All persons entering the Agency must possess valid Government Issued Photo ID (a driver license is preferred), will be screened. All carry items will be placed in an X-RAY machine and are also subject to search. No food, beverages, or weapons. When going to court, your Photo ID will be collected before entering the courtroom and it will be given back by the prosecutor.
Dress Appropriately
Appropriate clothing is required. The Judicial Hearing Officer reserves the final decision as to whether to adjudicate or adjourn a case until you are considered appropriately dressed. Save yourself time, if you question if you are appropriately dressed, consider coming another day. You may wait 2 hours before having your case adjourned for inappropriate court dress. Further, the agreement you reached with the prosecutor will not be saved. When you appear again, you will need to reach another plea agreement with the Court. In all cases, bikini bottoms or muscle shirts (those shirts where there are no sleeves and/or the sides are open) or anything considered too revealing is not allowed admittance to court.
Phones
Phones must be set to silent, and conversations, picture taking, and videotaping are not permitted and will result in ejection from the agency.
Parking
There is a public parking garage that charges $0.50 per hour. Bring quarters!
Due to maintenance construction of the Village of Hempstead Parking Facility, all Public parking is either located on the north side of the current parking facility, near Hellen Keller Way or Main St. or Village Lot Field 4, located west of Main St. located by V & C SuperMarket (12 N. Franklin St Hempstead) accessed by Front St/State Route 102, between Main St and N. Franklin St.
See Image below with yellow highlighting for Public Access Parking. For those parking in Village Parking Field 4 (located by V & C Supermarket – 12 N. Franklin St Hempstead), you can reach the entrance to TPVA by using the access ways highlighted in pink in the image below.
(click image for larger size)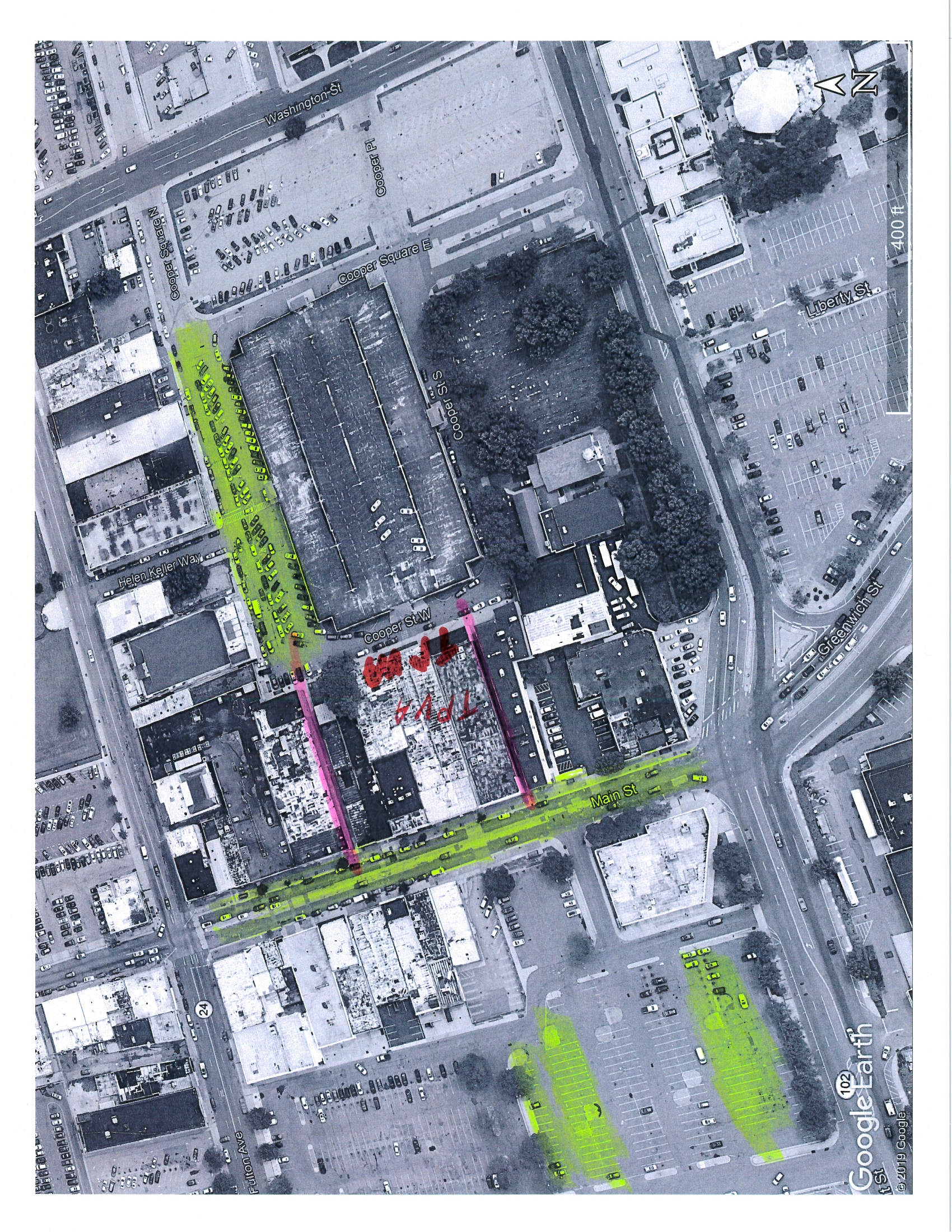 Duration
Depending on circumstances, a court appearance can take as little as 1 1/2 hours and as long as 4 hours or more, so plan accordingly.