District 16 - Arnold W. Drucker
District 16 - Arnold W. Drucker



Biography
Legislator Arnold W. Drucker is currently serving his second term as Nassau County Legislator for the 16th Legislative District, following his victory in a Special Election in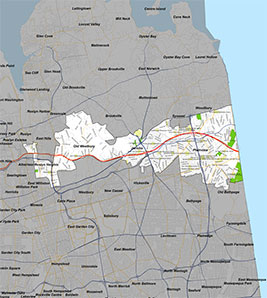 November 2016 after the sudden passing of former Legislator Judith Jacobs. Legislator Drucker is proud to serve the communities of Plainview, Old Bethpage, Jericho, Syosset, Woodbury, Hicksville, Old Westbury, and Roslyn Heights. He serves on five Legislative Committees: Finance, Government Services and Operations; Planning, Development, and the Environment; Public Works and Park; and Health and Social Services. A lifelong resident of Plainview, Legislator Drucker and his wife, Franny, have raised two children. He and his wife enjoy evening walks with their two goldendoodles, Louie and Callie.
Legislator Drucker is committed to continuing the work and legacy of his predecessor, the late Judy Jacobs, with renewed passion and dedication. As Legislator, Drucker is proud to have sponsored Tobacco 21 Legislation, which was originally sponsored by Judy Jacobs. On May 23rd, 2018, the Nassau County Legislature voted unanimously to enact Tobacco 21 Legislation, a proud moment for all and a glowing testament to Judy's many years of hard work and advocacy. Earlier this year, Drucker spearheaded Sexual Harassment Legislation, which will mandate elected officials, deputy County Executives, and department heads within Nassau County Government to complete on-line and in-person classroom training on sexual harassment. Drucker continues the fight to amend Nassau County's Human Rights Law to extend protections against discrimination to transgender and gender non-conforming individuals.
Ensuring access to affordable higher learning in Nassau County is one of Legislator Drucker's top priorities. Prior to his election to the County Legislature, Legislator Drucker had served on the Executive Board for Nassau Community College since 2012, when he was appointed by Governor Cuomo. Though he no longer serves on the Board, Legislator Drucker intends to continue to support the college in its laudable mission. "Ensuring that our community college is a strong academic institution that offers our local residents and young people an opportunity for an affordable higher education that can and should be the foundation of their success is important," said Drucker. (Syosset-Jericho Tribune, December 6, 2016).
After obtaining a Bachelor of Arts in Political Science from SUNY Buffalo, Legislator Drucker received his Juris Doctor from Rutgers University Law School. He is admitted to the New York State Bar Association and the New Jersey State Bar Association. On May 1st, 2018, Drucker received the New York State Bar Association's Pro Bono Service Award in recognition of his commitment to providing fair and equal access to legal representation for all.
Legislator Drucker is an active community member and serves on several boards, including the Board of Trustees of the Plainview Jewish Center. He is also a member of the Plainview-Old Bethpage Chamber of Commerce. Through his law practice, which he has owned and operated since 1982, he is a member of the Board of Directors of ElmCor, a community-based organization. ElmCor's dynamic work includes running many programs, including a youth summer camp, as well as providing counseling services and programs for victims of domestic violence and drug abuse.
If you would like to share your thoughts or concerns with Legislator Drucker, please contact his office at (516)571-6216, or email him directly at ADrucker@nassaucountyny.gov.