District 18 - Joshua A. Lafazan
District 18 - Joshua A. Lafazan
District 18 - Joshua A. Lafazan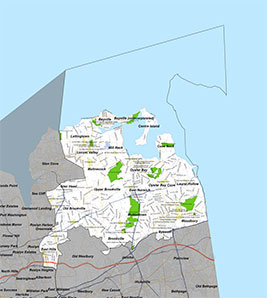 Biography:
Legislator Josh Lafazan, at 23 years of age, became Nassau County's youngest-ever legislator upon his election to the Nassau County Legislature in November of 2017. He is currently serving his second term, where he represents Nassau's 18th Legislative District.
Josh graduated from the Harvard Graduate School of Education with a Master's Degree in Education Policy and Management in May 2017, and from the Cornell University ILR School with a Bachelor's Degree in Industrial and Labor Relations in May 2016. Josh is currently pursuing his Doctoral Degree from the University of Pennsylvania.
In addition to public service, Josh is proud to work for Northwell Health, supporting the health system's Corporate Social Responsibility efforts. In this role, Josh advises Northwell - New York's largest private employer - on implementing policies and initiatives to best care for our employees, protect the environment, and impact our communities through strategic partnerships.
Josh is also a college professor, where he is the youngest faculty member at Long Island University. Josh's courses teach young candidates how to run for public office in their communities, and young entrepreneurs on how to start a venture.
In May 2012, at the age of 18, Josh became one of the youngest elected officials in the history of New York State when he was elected to the Syosset School Board of Education. Josh was elected with 82% of the vote one month before he graduated from Syosset High School, and was re-elected by his constituents in 2015. During his time on the school board, Josh successfully fought for an unprecedented increase in transparency and openness of all school district functions.

Josh's dedication to community service began before he ran for the school board. In 2011, Josh became the Founder & CEO of Safe Ride Syosset, a community outreach program dedicated to ensuring that no Syosset teenager gets behind the wheel of a car while intoxicated, or is the passenger in a car with a drunk driver. Josh and his volunteers safely drove home over 350 students in 2012, and there was not a single teenage drinking and driving accident in Syosset on the nights Safe Ride was operating.

Since his inauguration, Josh has both authored and passed 7 bills into law, which is a record for a freshman legislator.
Josh has made fighting the heroin and opioid epidemic his top legislative priority. In 2018, Josh passed two significant pieces of legislation to curb addiction in Nassau County. Josh wrote "Timothy's Law", which established a 24-hour hotline staffed exclusively by substance abuse counselors, and developed the "Nassau C.A.R.E.S." app, which created a zip-code searchable treatment database, so that any resident in need of help could find resources in their communities.
Josh believes that every veteran who served this nation in uniform should be cared for. In 2019, with bi-partisan support, Josh wrote and passed the "Dignity For Our Heroes" Package into law, which was comprised of two bills aimed at eliminating veteran homelessness here in Nassau County. These bills added veterans as a protected class under the Nassau County Human Rights Law, and created the Nassau Commission on Ending Veteran Homelessness to build a transitional supportive housing facility for all veterans in need.
Josh is passionate about helping people with disabilities. Josh drafted Nassau County's first-ever information visor card for drivers who are deaf or hard of hearing, so that they may communicate clearly with law enforcement officers during traffic stops and in their communities. Josh also passed a law mandating that there be a sign language interpreter present at every emergency press conference in Nassau County.
Josh has also worked to curb bullying in our schools, and believes that no child should ever be made to feel less than their true value. Josh passed a law creating www.NassauStopBullying.org, which makes resources available 24/7 for both parents and students, and collates every school district's DASA coordinator in Nassau County.

In 2012, Josh was named to the Long Island Press' Power List of the 50 Most Influential People on Long Island. In 2014, he received the Academy of Education Arts and Sciences Educators' Voice Award for School Board Member of the Year. In 2016, Josh was named a recipient of the New York State School Boards Association Lifetime Achievement Award. And in 2020, Long Island Business News named Josh to their "30 Under 30" List.
Josh is also the host of the Podcast "Java with Josh", and is the author of "Political Gladiators: How Millennials Can Navigate the 21st Century Political Minefield and WIN!"
Upcoming Events:
Feb 9th 2021 Tuesday 3:00 PM - 3:30 PM
The Basic of Medicare Made Clear
Presented by Joy Poupko, Medicare Advisor with Senior Services of North America.
Come join us to learn the basics of Medicare. Joy Poupko of Senior Services of North America will assist in helping to choose the right plan for you, and cover the fundamentals of Medicare, such as:
What does Medicare cover?
What does Medicare Cost?
What are your options?
When can you enroll?
How do you choose?
This session will be held via Zoom. You will receive the Zoom information upon signing up for this event online.
Feb 10th 2021 Wednesday 6:00 PM - 7:00 PM
Personal Finance for Young Adults Webinar

Presented by Thomas Barrella, Business Educator and Author of FinanciaLit.
It is more important than ever for young people to enter adulthood with basic financial literacy. In this session we will discuss budgeting, saving strategies, money growth, credit, employee vs. freelancer status, income taxes, and more.
This session will be held via Zoom. You will receive the zoom information upon signing up for this event online.
Nominations Ongoing – Award Feb 2021
Kids of Distinction Nomination

This upcoming February, Nassau County Legislator Joshua A. Lafazan is hosting a virtual "Kids of Distinction" ceremony in which outstanding K-12 students are recognized for their hard work, dedication, and success. Whether students have excelled in the classroom, athletics, the arts, music, community service or more, we look forward to honoring many future leaders of tomorrow!
If you know a student who fits this description, please click the link below and submit their information and a short description of why you feel they should be recognized.
We look forward to receiving your nominations!
Click here to Nominate a Kid of Distinction
Weekly
Citizen of the Week Nomination
Is there someone in your community who has made an impact on your life and/or the lives of others? Nassau County Legislator Josh Lafazan would like to honor and recognize those extraordinary residents among us by highlighting their efforts in our "Citizens of the Week" social media series!
To nominate someone, please click the link below and submit their information and a short description of why you feel they should be recognized.
We look forward to receiving your nominations!